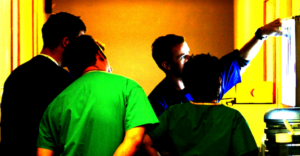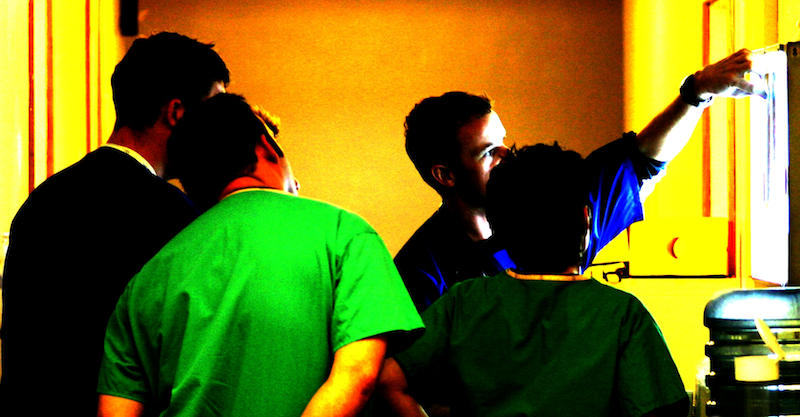 I love education. As a trainee, I was lucky to be guided by a handful of excellent mentors along the path. The truth is however, in many places I worked inspiration and good education were hard to find.
I am driven by the desire to make my trainees and colleagues better than me. As a critical care physician, I can only save so many lives in one career. But as an educator I have an opportunity to influence patient care in regions of spacetime to which I will never have personal access.
A massive investment has gone into my medical education. My parents worked their butts off to allow me to study. State funded university education in England got me my medical degree. Taxpayers' money paid my salary throughout my training. Most importantly, thousands of patients put their trust in me as I did my best to learn medicine by treating them, sometimes getting it right, often getting it less than optimal. I owe all of them. I owe it to them, and to myself, to make it all count as much as possible.
If I can ignite a spark in a trainee's mind that inspires them to improve, or share a memorable clinical tip that gets recalled and applied at a critical point in a resuscitation months or years from now, then all that investment, all that sacrifice, is so much more worth it.
Here's a list of the principles I try to apply, especially when running courses. Underlying all of this is the goal to provide the kind of training I would have loved to have received myself.
Cliff's Clinical Teaching Tips
Keep it case-based
This allows the nurse, the specialist, and intern to be in the same classroom. When we're considering patients, everyone can learn something that is relevant to their professional perspective and experience.
Respect the learner
Allow everyone to question the teaching and express their opinion. Never humiliate anyone. The less threatened people feel, the more exploratory their questions will be, and the better they are able to make sense of the information discussed.
Have regular breaks, with food, water, and caffeine
If people have travelled to learn, they need to be protected from fatigue, dehydration, neuroglycopaenia and caffeine withdrawal. If they know you care about these things, they know you care about an effective learning environment, and will be more engaged.
How to make it memorable
Make it fun
Learning is great fun. We should have a good time together. If you're bored, you won't learn effectively. Funny or unusual stuff is more memorable, too.
Connect emotionally
Critical care is emotive. During resuscitation we have powerful interactions with ourselves and with our colleagues, sometimes negatively. Learners who are experienced clinicians have all felt pain or frustration in the resuscitation environment. Addressing these issues, by focusing on what could be done better, from a self, team, environment, or systems point of view frames the clinical teaching in more realistic and more applicable context. Sharing my own feelings about cases I've managed shows the learners how similar we all are inside, and I'll be better able to convince them that they are just as capable of applying what is taught as I am. We can advise learners more effectively how to think and behave if we immerse the teaching in the reality of human experience.
Keep it simple
A quotation often misattributed to Einstein is "If you can't explain it simply, you don't understand it well enough". Resuscitation and critical care concepts, certainly as applied to the initial resus room evaluation and therapies, can all be explained in uncomplicated ways. It behooves any resuscitation educator to adhere to this.
Have a framework that you continually refer back to
Knowing where to 'store' new information and how it relates to existing knowledge or other concepts being taught is important for understanding and retention. A classic example of such a framework is the ABCDE primary survey, but many more can be created. It also facilitates communication of ideas though mindmaps or note taking via sketchnotes.
Tell stories
This relates to connecting emotionally, as recommended above, but there is more to it. Humans have communicated information and ideas through storytelling since the dawn of civilisation. We are hardwired so that our attention is captured by stories.
Use mnemonics
Mnemonic tools like acronyms are helpful for information that needs to be rapidly accessed, like the one I made for possible causes of a raised lactate when you're looking at a blood gas from a patient in the resus room with a lactate of 12 mmol/l.
I've been in the privileged position of being able to apply these principles in courses I've run in various countries for over a decade. In 2016 I get to do it again in the Netherlands, Sweden, and England. I'm one very lucky educator!
Related posts and content:
How I train our Prehospital & Retrieval Medicine Team