Syncope is a common ED presentation. An ECG is a critical investigation in syncope to identify the cause, including rare conditions associated with risk of sudden cardiac death.
So we should be really grateful when we are invited to interpret an ECG while we're in the middle of six other tasks.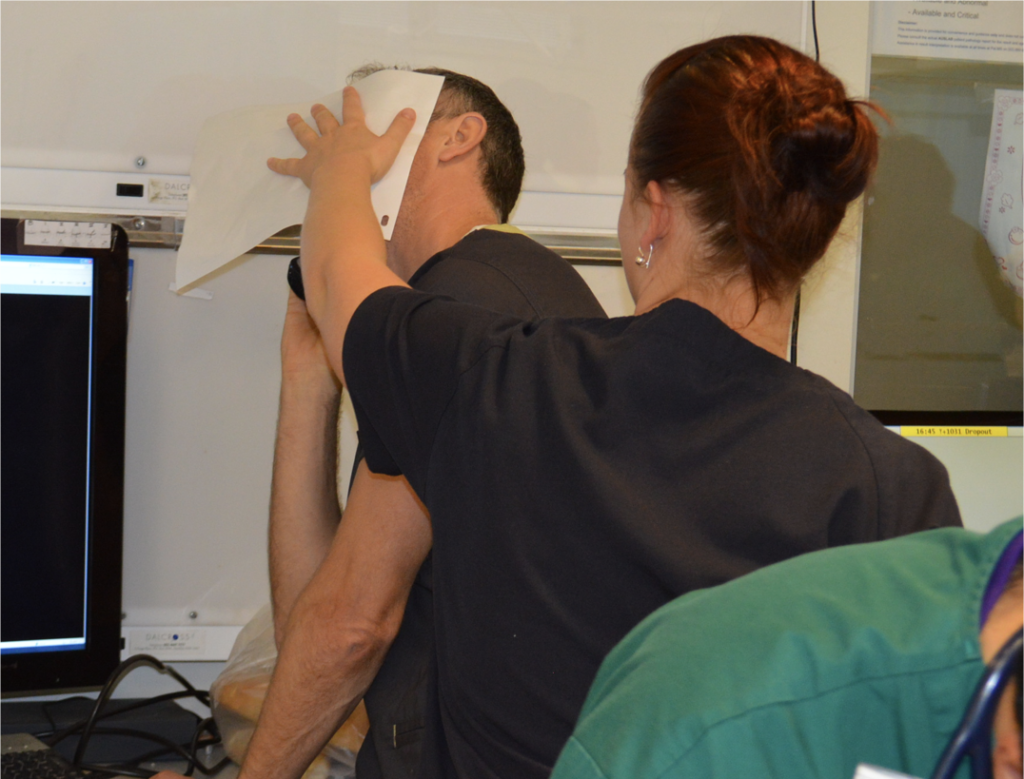 The problem with syncope is that some of the important life-threatening causes have fairly obscure ECG features that might be hard to remember. Some of these disorders and their ECG features are not entirely familiar to the clinicians who first screen the ECG.
When you're busy and cognitively stretched you can save time and reduce the risk of missing important findings by having a structured, memorable checklist. I use the acronym WOBBLER, because I don't want these people to wobble and kiss the dirt again.
The nice thing about WOBBLER is that it uses the sequence that you follow when you look at an ECG, ie from left to right, or from P wave to T wave.
The key is that this is for ECGs without obvious ischaemia or dysrhythmia. If you see something like this (STEMI):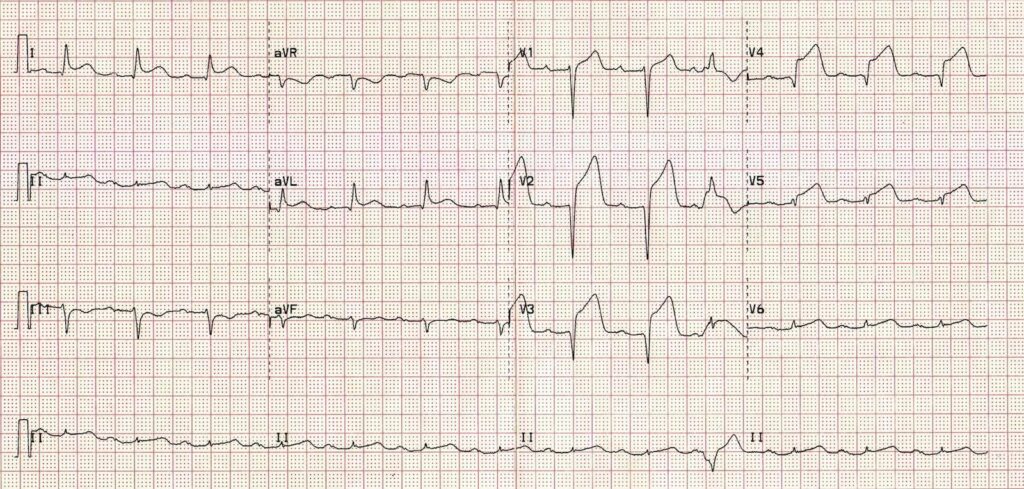 or this (VT):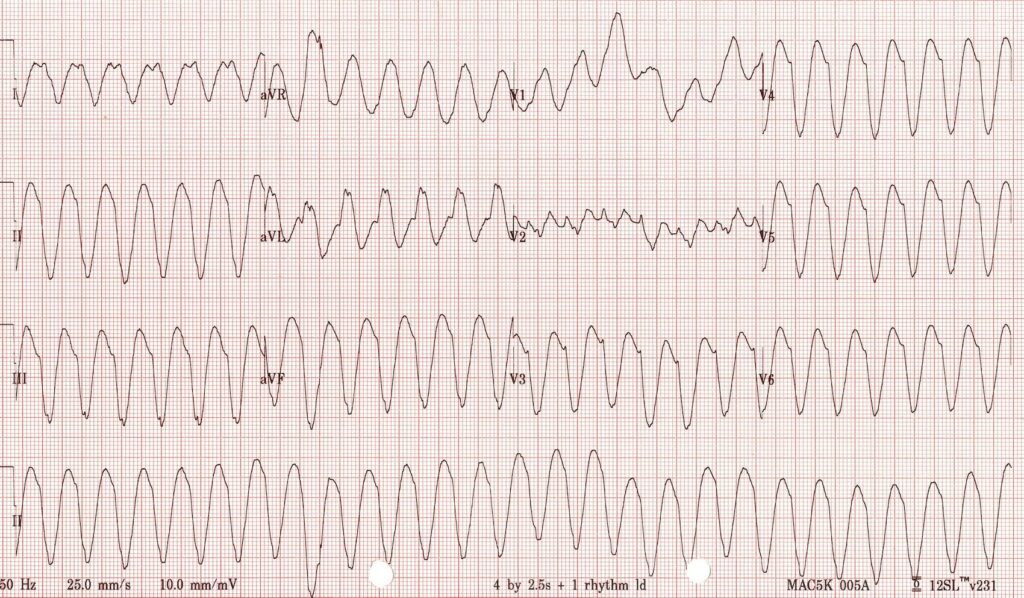 you don't need WOBBLER, you need to be treating that patient.
So we apply WOBBLER to screen the ECG of well-looking syncope patients without obvious ischaemia or dysrhythmia.
Here goes…

W is Wolff-Parkinson-White syndrome – look for a short PR interval or delta wave: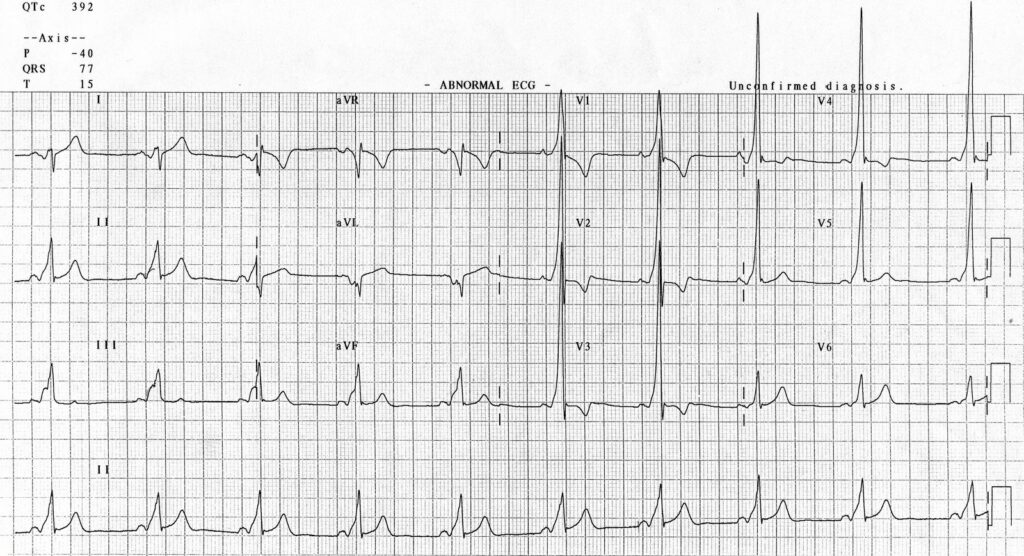 O is obstructed AV pathway – look for 2nd or 3rd degree block:

or axis deviation: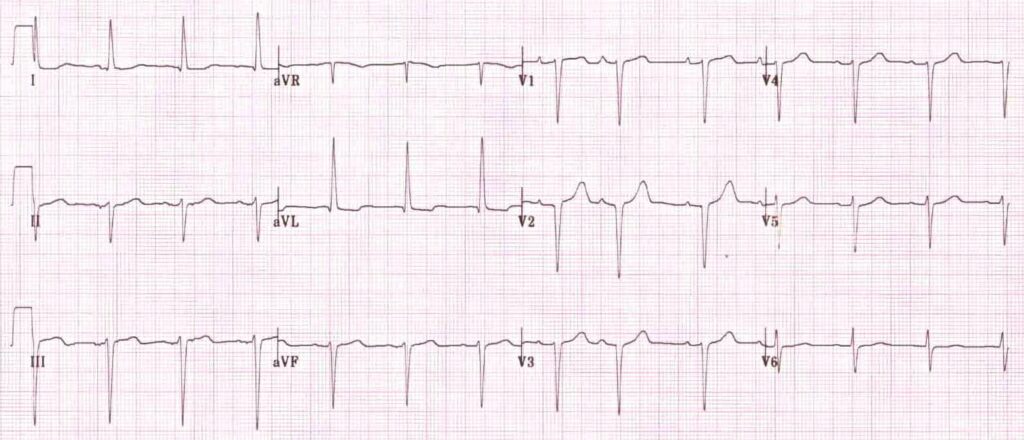 …which is the first step in looking for B bifascicular block, or the combination of axis deviation and right bundle branch block: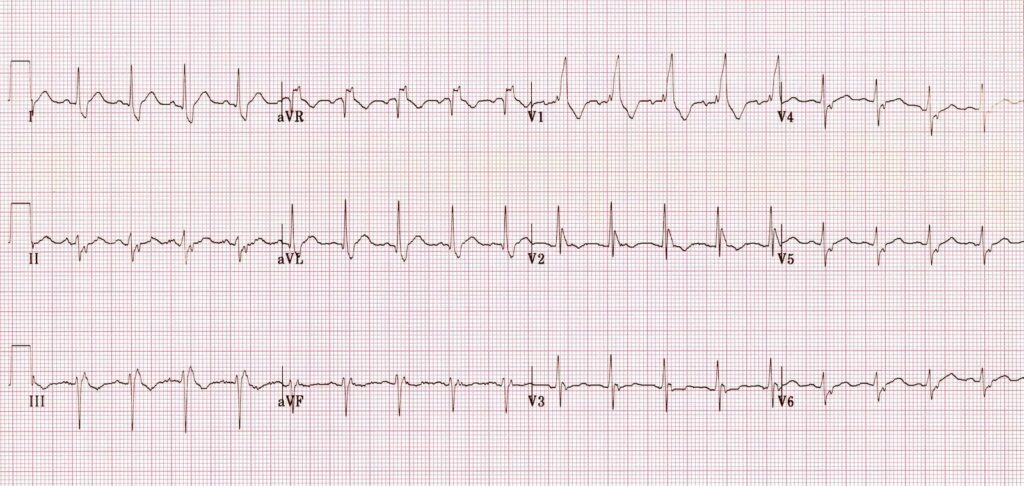 the second B is Brugada, looking for characteristic morphology of the ST segment, so called coved ST elevation: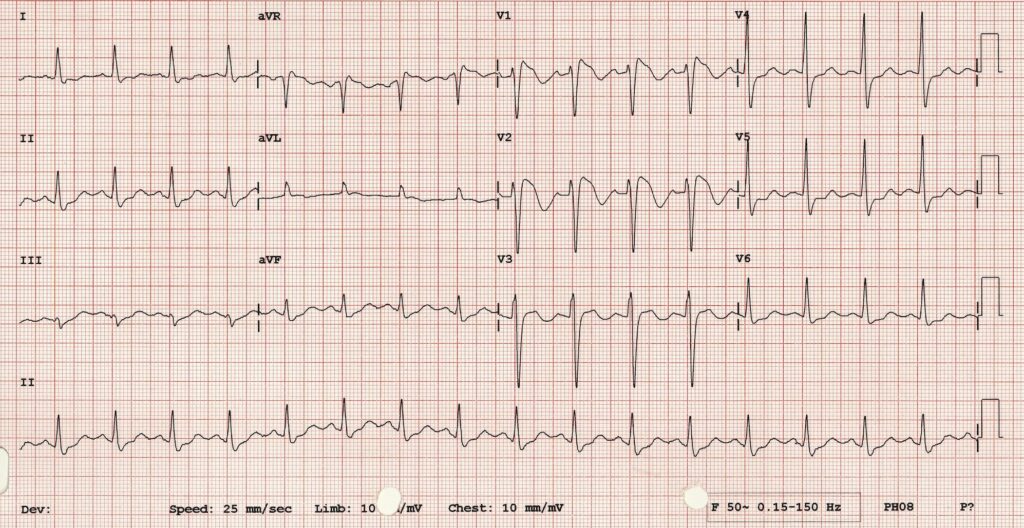 Now syncope, especially exertional syncope, can be caused by left ventricular outflow tract obstruction. Two conditions not to be missed associated with LVOTO (and exertional syncope) are hypertrophic cardiomyopathy and aortic stenosis. These both characteristically cause L– left ventricular hypertrophy: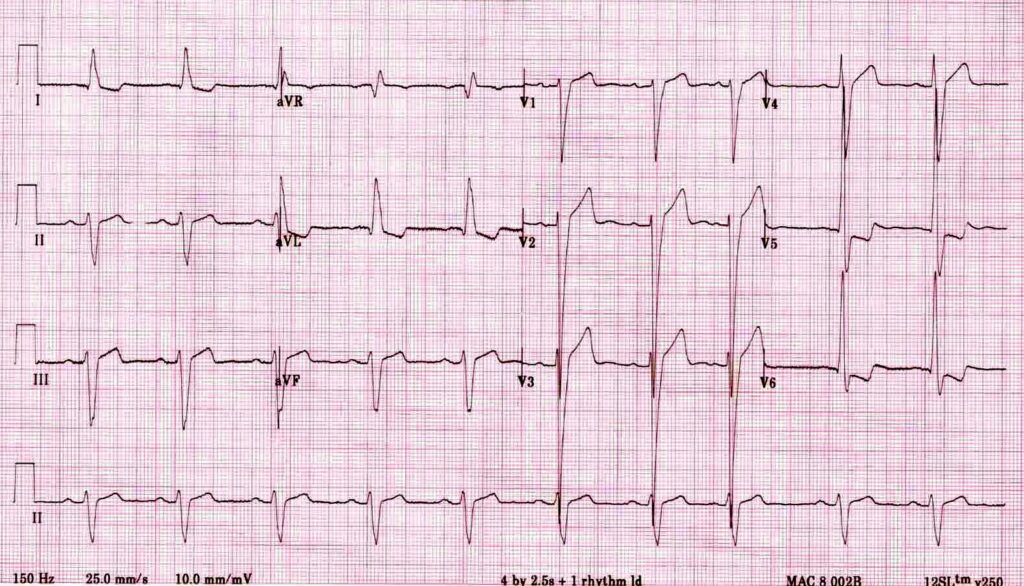 E– stands for epsilon wave, a feature of arrythmogenic right ventricular dysplasia, a rare disorder associated with sudden cardiac death. The epsilon wave looks a bit like the J wave of hypothermia and may be associated with other T wave abnormalities in V1-V3: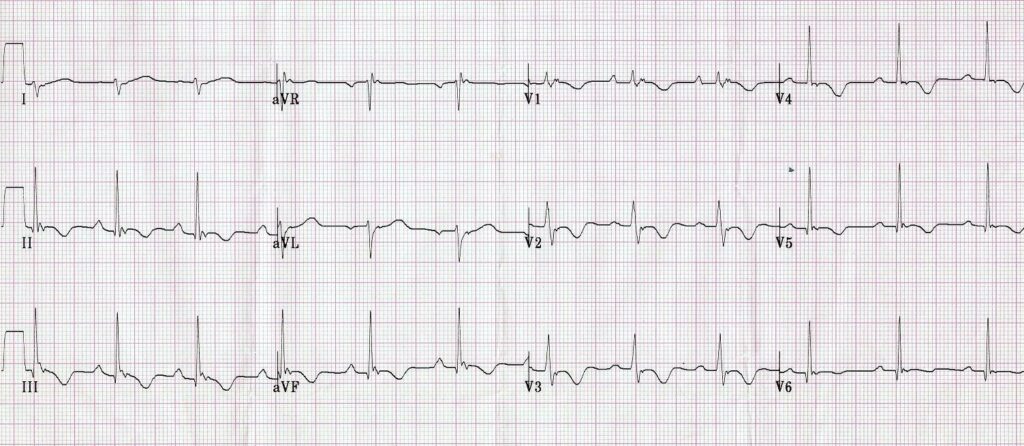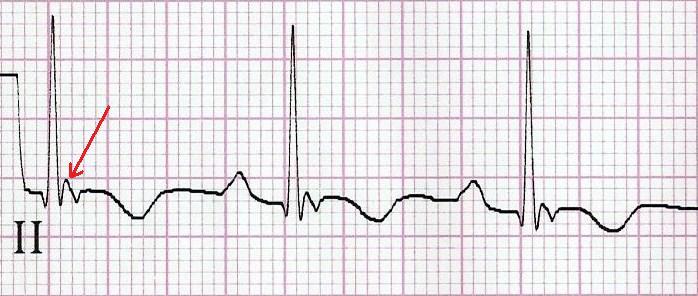 Finally, R stands for Repolarisation abnormality, particularly delayed Repolarisation as found in long QT syndrome: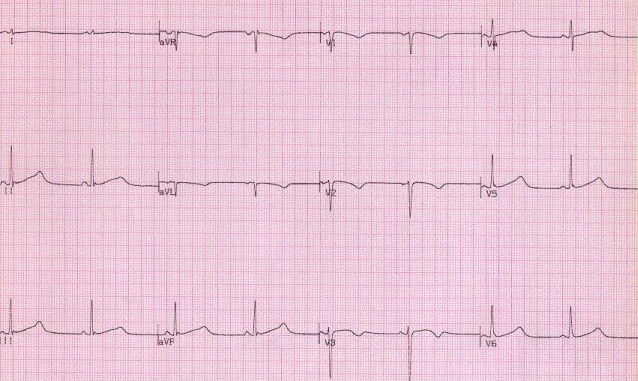 but remember there is also a short QT syndrome too: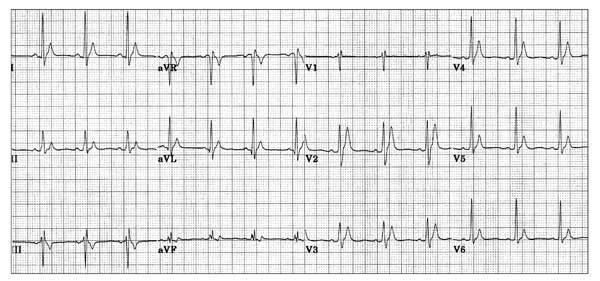 So WOBBLER may help you find the important and rare abnormalities not to be missed in the syncope patient, going from left to right from P wave through to T wave, in the patient that does not have obvious dysrhythmia or ischaemia. I hope you find it a helpful cognitive forcing tool.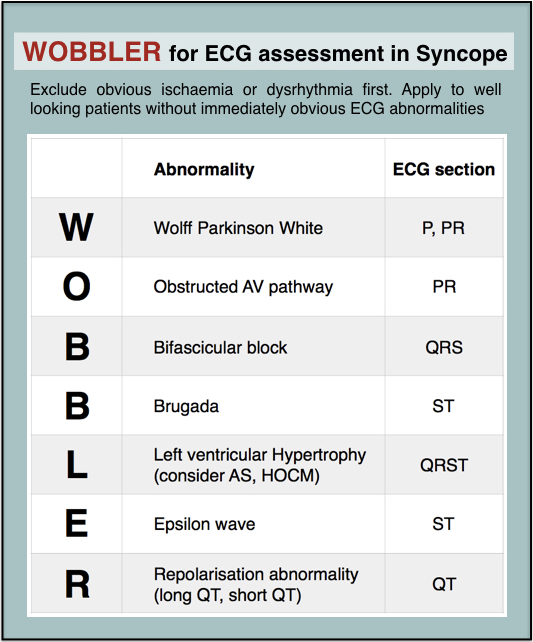 All ECGs reproduced with kind permission of Life in the Fast Lane